Joining Instructions - Cyber Advisor
Please use the instructions below to help you organise your exam day.
Please contact us if you have any queries.
You will need Powerpoint to open and download this guide, which will also be shown to candidates on the day of their exam.
All our Cheltenham-based exams take place at our purpose-built assessment centre:
The Cyber Scheme, Eagle Tower, Montpellier Drive, Cheltenham GL50 1TA
There is no on-site parking for candidates at our Cheltenham centre. Bath Terrace Car Park (SatNav GL50 2BA) offers reasonable all day parking within a few minutes' walk. We are able to organise blue badge accessible parking for those who need it – please email us to book.
We now offer regional exams in locations across the UK (currently Belfast, Edinburgh and Manchester). If you choose one of these locations, you will be emailed the exact address with your booking confirmation. Please organise your own accommodation if needed.
Our exam rooms are all accessible via lift. Please let us know if you have any accessibility issues.
There are two exam sessions per day – please choose morning or afternoon at time of booking. Morning exams begin at 9.00am, please check in at Eagle Tower reception at 8.45am. Afternoon exams begin at 1.45pm, please check in at 1.30pm. Our invigilator will accompany you to the exam room. 
Preparation
Before sitting the assessment, you should have familiarised yourself with the following documents: 
 

Cyber Essentials Requirements for Infrastructure (latest version), found here 

 

Cyber Advisor Standard – bottom of page here

 

 

NCSC Cyber Advisor (Cyber Essentials) – Guidance for applicants – 

found here

Photo-ID
You should bring a recognised photo-id (e.g. Passport or Driving Licence) and have this available throughout the test.
On the day
Applicants are required to arrive at least 15 minutes before the assessment starts; if you arrive late you may not be allowed to participate and will forfeit the assessment fees. Please contact us if you are running late.
The assessments will typically take 3 hours but please allow extra time for unforeseeable delays.
Non-attendance
Please notify us if you are unable to attend or if you have any enquiries prior to the exam date. Please read our terms and conditions for our cancellation policy.
Please bring:
A suitable laptop with Wi-Fi capabilities and charger, in order to sit the assessment. 
You may be connecting to a public Wi-Fi in order to participate in the Assessment. It is strongly recommended that you use a VPN on your device to mitigate against the risks associated with using public Wi-Fi. Guidance can be found on the NCSCs website here. (The same guidance also applies to laptops.) 
You may wish to bring a printed copy of the Cyber Advisor Standard referred to above. All other materials required during the assessment will be provided.
Mobile Phones
You will be asked to put phones / tech on silent and away during exams, you will not be contactable via teams, slack etc during the assessment.
Assessment Format
Introduction – 15 mins
12 x Multiple Choice Questions + Short Form written assessment  – 2 hrs in total
Discussion – 30 mins.
It is open book.
The assessment uses a multi-faceted approach to assess a candidate's knowledge and skills in implementing the standard and behaviours (communications, ethics, engagement quality, impact etc) of the Cyber Essentials standard in a simulated but realistic scenario.
The short form written section and the discussion give the candidate the chance to show their skills in applying knowledge of the standard and their consultancy abilities/ethics. They are marked in such a way that it is possible to pass without necessarily giving 'model' answers and gaining full marks. 
Assessment Outcome
Results and feedback will be sent to you by email within 5 working days. You will need to complete a candidate questionnaire which will be emailed to you the day after the assessment.  
Upon a successful outcome, we will issue you with the Certificate of Competence in Cyber Essentials Implementation. Secure Blockmark certificates will be issued to successful Applicants.
To become a Cyber Advisor (Cyber Essentials), you will then need to provide IASME with this certificate by emailing it here. You will then be required to sit an online induction training course with IASME, which will take you through the essential elements of the scheme and be followed by a simple test of understanding.
Once you have successfully passed the Cyber Advisor (Cyber Essentials) exam, the company you work for can become an NCSC Assured Service Provider. Please note, all Cyber Advisors (Cyber Essentials) must be based in the UK or Crown Dependencies.
Retaking the test
Applicants wishing to retake the assessment will be required to wait 8 weeks before resitting.
Applicants that are unsuccessful 3 times will be required to wait a minimum of 4 months before resitting the assessment. This is to ensure that Applicants have had time to prepare fully using the feedback provided during previous assessment(s).
For all resits, Applicants will be required to cover the assessment costs.
Appealing the Assessment Decision
All Applicants have the right to appeal the decision of the Assessor, which can be done by following the process described here.
Inclusion and Accessibility during exams and training
The Cyber Scheme believe everyone should have access to a career in security testing. We are available to discuss any concerns you have and are more than happy to make reasonable adjustments for any candidate who requires them during training and examinations. 
These reasonable adjustments are to ensure you are given an equal opportunity to demonstrate the necessary knowledge, skills and behaviours required. We recognise that not all disabilities are visible.
We have a range of reasonable adjustments we can offer depending on what difficulty you might face.  If you request an adjustment which we are unable to offer, we will give you a reason why we cannot offer it.  This might be because it maps to a key Knowledge, Skill or Behaviour that we have to assess against within the certification.  If that is the case, we will tell you which aspect we think would not be properly assessed.
There may be background noise during an assessment. Please bring (or ask for) ear plugs / ear defenders or listen to music if background noise is likely to affect your concentration (please note this doesn't apply to our training courses).
Mobility
Access to all of our facilities is suitable for people with mobility issues. Should any other special facilities be required please get in touch at time of booking.  For some reasonable adjustments, such as access to a disabled parking space, we will need to see supporting documentation around the condition to allow us to apply for this access for you. No information will be retained or stored once the request is validated.
Parking Details
Assessment Centre
Facilities
Exam Capacity
Parking Details
Walking directions to the nearest Pay & Display car park can be found here.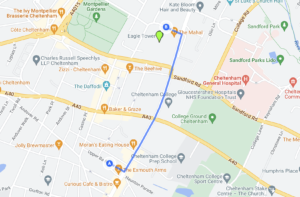 Assessment Centre
Facilities
Exam Capacity