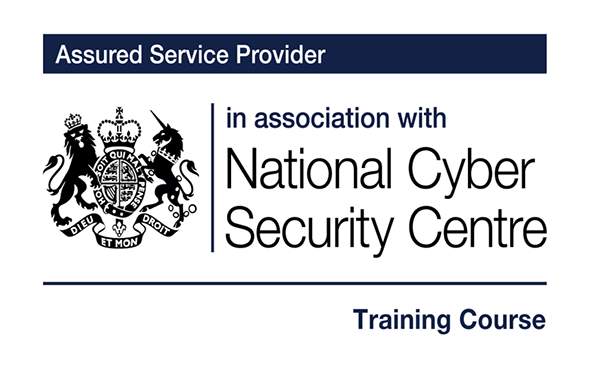 CSTM Practitioner Training
The Cyber Scheme's CSTM Practitioner Training Course has been recognised and certified by National Cyber Security Centre (NCSC) as being consistent with industry best practice.

With the abundance of cyber security training courses on offer, it can be difficult to identify highly competent trainers and good quality courses. NCSC Assured Training addresses this issue – providing rigorously assessed training courses to select from.
Upcoming training courses for 2023: (updated regularly)

SEPTEMBER 18th-22nd | OCTOBER 16th – 20th | NOVEMBER 20th – 24th | DECEMBER 11th – 15th
Acquire the skills, knowledge and techniques required to confidently sit a CSTM exam with us when you take this comprehensive course. Available to book now.
This intensive series of mentoring sessions takes place over five days in our brand new assessment centre in central Cheltenham. To ask any questions not covered below, or to book a place please click the button at the bottom of this page.
Please contact us for detailed information on pricing. Discounts are given for bookings of two or more candidates, and for sponsors of The Cyber Scheme.
N.B Please don't book a CSTM exam using our online system if you are undertaking CSTM training with us – this is to ensure we use different assessors for both as per NCSC requirements. If you wish to book training followed by an exam, let us know when you book your training, and we will advise of suitable exam dates.
This focussed, classroom based course is run by our lead trainer Paul Richards, and will encompass all aspects of cyber security at CSTM level.
Paul is a subject matter expert in ethical hacking and penetration testing who specialises in helping others progress within cyber security through training, mentoring and the highest standard of assessment.
The course is designed to help each and every candidate to be a confident, skilled, well rounded cybersecurity professional with proven and tested skills in the current threat theatre. It allows lots of time for Q & A and will support all of the candidates' individual needs, helping them navigate complex technical topics.
This training covers the CSTM syllabus as well as giving you a well-rounded and comprehensive foundation on which to build your ethical hacking career. We would be delighted if our courses and guidance mean candidates are successful in whichever qualifications they are studying for (CEH/GPEN/CSTM/LSCP certification and more). The aim of our training is and will always be to give our candidates the skills, knowledge and techniques required for a career in penetration testing and ethical hacking.
Topics to be covered include:
Setting up various operating systems and distros for hacking
Network protocols
Network scanning and device enumeration
Service enumeration and fingerprinting
Vulnerability analysis
Exploitation techniques
Cryptography
Scopes, planning and risk management
Web application hacking techniques
Report writing
Working in Cyber
The laws and regulations around ethical hacking
Password security

Why choose The Cyber Scheme?
Our trainers and assessors have many years' experience in creating, developing, and running comprehensive exams aimed at skilled pen testers at CSTM and CSTL level. We are however concerned at the current high failure rate, especially at the CSTM practitioner level, and we understand the frustration caused by the need to resit exams. We have created our CSTM training in order for practitioners to identify knowledge gaps before sitting the exam, and continue their career progression in ethical hacking with confidence.
Getting a head start…
There are no prerequisites for this course. Below are a few optional resources and self-study recommendations which will help with the training:

Please note:
In keeping with our code of ethics, working in line with standards set by ISO17024, your trainer will have no involvement in the assessing of any exams you subsequently take at CSTM level with The Cyber Scheme for a period of two years.