Please use the instructions below to help you organise your course.
Please contact us if you have any queries.
General Information
All our courses currently take place at our assessment centre in central Cheltenham:
The Cyber Scheme, Eagle Tower, Montpellier Drive, Cheltenham GL50 1TA
Please organise your own accommodation if needed.
Bath Terrace Car Park (SatNav GL50 2BA) offers reasonable all day parking.
Our rooms are all accessible via lift. Please let us know if you have any accessibility issues.
Courses begin at 9.00am, please arrive 15 minutes before your start time to register. 
Non-attendance
Please notify us if you are unable to attend or if you have any enquiries prior to the course date. Please read our terms and conditions for our cancellation policy.
Refreshments and lunch break
Drinking water is available onsite. Please note you will have a 60-minute lunch break. You can bring your own food, purchase from the onsite café (food, snacks, tea/coffee) or you can pop out for lunch. (We do not provide tea/coffee in the training room,  please purchase from the onsite café.)
Equipment
Please supply your own laptop. We do not provide or have loan laptops. All tools and software must be licensed appropriately.
Essential/mandatory:-
A laptop with at least 8Gig of memory with administrator credentials – so you can add software
A NIC (network interface card) – so you can connect to the network
A wireless NIC (network interface card) – so you can connect to the wireless network
A HDMI port – so you can attach a monitor
A working power supply – so you can use your laptop for extended periods of time

Ideally/If you have them:-
An office package for opening Word documents, PDFs and spreadsheets.
A copy of a penetration testing distro i.e. Kali Linux (Virtualised might be best i.e. Virtual box)
A copy of vulnerability scanning software i.e. Nessus
Software for zipping and unzipping documents

Optional:-
A copy of the RTFM (Red Team Field Manual)
External mouse and keyboard
Spare laptop
External WIFI adapter for WIFI testing (i.e. an alpha card)
USB Stick – for easy transfer of data /notes / slides / etc

Shown below are just examples and other software and vendors are available.
Virtual Box https://www.virtualbox.org/wiki/Downloads
Kali Linux https://www.kali.org/downloads/
Nessus https://www.tenable.com/products/nessus-home

**Please be aware of different types of Nessus licenses. Check how long any trial versions last and how many devices you can scan.
Inclusion and Accessibility during exams and training
The Cyber Scheme believe everyone should have access to a career in security testing. We are available to discuss any concerns you have and are more than happy to make reasonable adjustments for any candidate who requires them during training and examinations. 
These reasonable adjustments are to ensure you are given an equal opportunity to demonstrate the necessary knowledge, skills and behaviours required. We recognise that not all disabilities are visible.
We have a range of reasonable adjustments we can offer depending on what difficulty you might face.  If you request an adjustment which we are unable to offer, we will give you a reason why we cannot offer it.  This might be because it maps to a key Knowledge, Skill or Behaviour that we have to assess against within the certification.  If that is the case, we will tell you which aspect we think would not be properly assessed.
There may be background noise during an assessment. Please bring (or ask for) ear plugs / ear defenders or listen to music if background noise is likely to affect your concentration (please note this doesn't apply to our training courses).
Mobility
Access to all of our facilities is suitable for people with mobility issues. Should any other special facilities be required please get in touch at time of booking.  For some reasonable adjustments, such as access to a disabled parking space, we will need to see supporting documentation around the condition to allow us to apply for this access for you. No information will be retained or stored once the request is validated.
Parking Details
Assessment Centre
Facilities
Class Capacity
Parking Details
Walking directions to the nearest Pay & Display car park can be found here.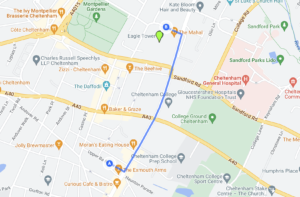 Assessment Centre
Facilities
Class Capacity